1. Schedule your time.
One of the most important factors in keeping your motivation up is developing it into a habit. Whether it be 20 minutes or 3 hours, schedule time to study every day and stick to it. Regular exposure solidifies what you learn and keeps you progressing. To make sure you stick to your routine, a great idea is to build a schedule for your day and decide that every day/Monday/weekend, you study from 6pm to 8pm. Just remember that 30 minutes a day, every day, is better than a binge 8-hour study session at the end of the week (though it's obviously better than nothing).
2. Learn a word a day with our great Word of the Day learning tool.
Trying to learn everything at once and getting overwhelmed by the sheer number of words in your new language is not a good idea. Sometimes, even if you do learn new words, you forget them quickly because you haven't heard them enough in context. As mentioned above, daily exposure to new words is an important factor in solidifying your target language. Our Word of the Day tool delivers you daily words and phrases, shows you how to pronounce them and use them in different contexts. Since you can get the WOTD via email, Facebook, or Twitter, this is a passive way of learning a language that fits into your existing daily social media routine. It only takes 3 minutes to review a word and practice its pronunciation, so you can do it on the way to work, in the gym, or even before you go to bed.
Click here to get the Swedish Word of the Day for FREE!
3. Make friends!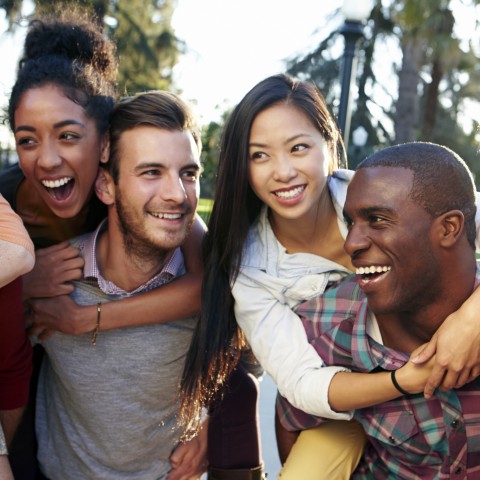 If there's a community of people who speak the language you want to learn in your city, start attending those events! Friendship is the easiest way to get comfortable with the slang, intonation, and mannerisms of a new language. The key to learning any language is speaking a lot, so try to find a native speaker who can be your conversation partner. Having friends that speak your target language means that you will find yourself in situations where you have no choice but to speak that language. But since they are your friends, you will be doing things you enjoy with them. So these situations will probably have little or no stress. These friendships will also mean that you have someone you can ask about language, culture, and so on.
4. Take a break!
If you're having an off day or if your brain is already tired of studying, see if you can take a break and do something fun AND useful. Comic books, illustrated stories, and cartoons are a fun way to keep learning while reducing the target language text load for weary eyes. Plus, the images help you plant lasting seeds of memory, as researchers say humor opens up cognitive doors. This is a way to keep the target language active in your brain without the strain of studying a textbook.
Don't get stuck with the same content though. When things start to bore you, move on. Change up your books, movies, anime, music, dramas, and so on when they start getting old.
5. Don't give up!
As with any goal, there are going to be pitfalls along the way. You'd have to be incredibly determined to never have an off-day or consider giving up. And when you do it's ok, but the important thing is to pick yourself up after this temporary setback and keep going. Knowing you've overcome a few obstacles is only going to make the moment you have your first conversation in another language that much sweeter. Like the Swedish proverb says, 'Fall down seven times, stand up eight.'
If you need more motivation, check out this list of the Top 10 Inspirational Quotes in Swedish.