Imagine a summer's day spent strolling along waterfront promenades and harbors, surrounded by pencil-colored historical buildings and leafy parks… 
But wait, you don't need to imagine it. Just visit Stockholm!
The capital of Sweden is made up of fourteen islands, through which the freshwater Lake Mälaren flows out into the Baltic Sea. Sounds like an idyllic place, doesn't it? And that's not all: Outside of the city, the Stockholm Archipelago continues with over 30,000 more islands.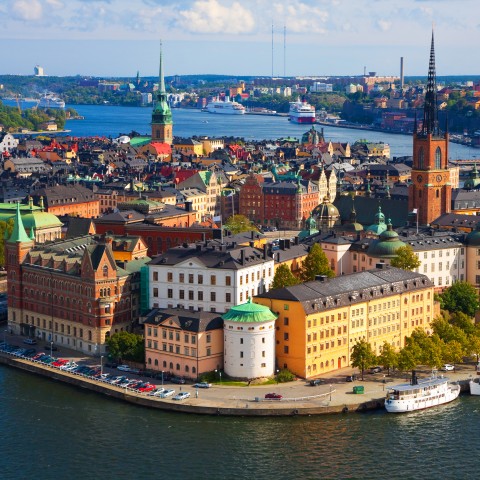 In this travel guide, you'll discover Stockholm's top eleven destinations as well as some extra tips and hints. 
As St. Augustine said, "The world is a book and those who do not travel read only one page." And I assure you, the pages of this wonderful and original city are definitely worth reading.
Table of Contents
Before You Go
Have we given you enough reasons to visit Stockholm yet? Perfect. That means it's time to organize your trip. Let us help you out with that! 
When to Visit Stockholm
You've probably heard that winters in Sweden are tough. Lots of snow, freezing temperatures, only a few hours of light a day… Not ideal conditions for discovering the city! 
Of course, tourists can be found all year round, but most people choose to visit Stockholm during the summer months of June through August. This is definitely the best time to visit Stockholm weather-wise, as you'll be able to truly enjoy being outdoors (as do the Swedes) and take in all the city has to offer! 
Visa
If you're from Europe or North America, you'll not need a visa to enter Sweden as a tourist; you'll be allowed to stay for up to three months without problems. If you're from somewhere else, you'll need to check the requirements for entering Sweden. 
Interesting Facts & Tips
Sweden rejected the euro and continues to use Swedish krona as the national currency. (1 USD will get you SEK9.00.)
Many places have a CARD ONLY policy, so be sure to have a working credit or debit card. 
Traveling by taxi can get quite expensive, so we recommend you make use of Sweden's perfectly functioning public transportation system. Inside any metro station, you can buy daily and weekly passes as well as single tickets which include unlimited metro, tram, and bus journeys.
Must-See Places for a 1-3 Day Trip
Once you have all the basic info on how to be safe and organized on your trip, and have picked out your travel dates, you can start looking into the best places to see in Stockholm. 
If you're visiting Stockholm for the first time, it's natural to feel overwhelmed with all the options. To give you a hand, we've outlined five places you can't miss! 
Gamla Stan 
First on our list is Gamla Stan, the Old Town where you can take in the tranquil atmosphere of Stockholm. 
This is one of the most well-preserved medieval city centers in Europe, and walking around it will feel like being in an open-air museum full of sights, attractions, restaurants, cafés, and shops. 
In this pedestrian-friendly area paved with cobblestones, you'll find both the oldest street in Stockholm (Köpmangatan) and the narrowest (Mårten Trotzigs Gränd).
Stortorget
This is the main square in the Old Town. Once you arrive here and have a look around, you'll easily understand why these colorful facades are the most photographed in Sweden. Here's where it all started for Stockholm, back in the thirteenth century.
Every stone and every corner here is filled with history. Our advice is to just sit on one of the benches and soak it all in. 
If you visit around Christmastime, you'll find a traditional market in the square. 
The Stockholm subway
After you've explored the beautiful city center, we recommend you head to your next destination via the Stockholm tunnelbana, the city's subway. If you have the time, you might even want to spend a while exploring it…we bet you won't even feel the need to leave! This metro system is truly one of a kind. 
The system comprises one hundred stations, each with unique art on its platform, walls, or waiting hall. The most beautiful ones include: 
T-Centralen
Stadion
Morby Centrum
Kungstradgarden
Solna Centrum 
Stadshuset
The City Hall, which features the golden Three Crowns on its spire, is one of the most well-known silhouettes in Stockholm. 
Made of eight million bricks and designed by architect Ragnar Östberg, this building houses offices and session halls for politicians and officials, as well as splendid rooms and unique works of art.
The great Nobel banquet is also held at City Hall, while Stockholm's municipal council meets in Rådssalen, the Council Chamber.
Skinnarviksberget
If you want to step out of the bustle for an afternoon and enjoy wonderful views over the city and archipelago, head to the highest natural point in central Stockholm: Skinnarviksberget. The name literally means "the mountain bay of leather" because of its history of leather manufacturing and tanning.
Nowadays, of course, there's no leather involved. Tourists and locals alike climb up here to enjoy a picnic with a view, or to marvel at the sunset over the city. 
Highly Recommended Places for a 4-7 Day Trip (or Longer)
If you still have some time to spend in the beautiful capital of Sweden, there are a few more gems to visit around Stockholm! 
Stockholm Archipelago 
Just twenty minutes from the city starts a whole new world made up of over 30,000 small islands. It's the Stockholm skärgård, the second-largest archipelago in the Baltic Sea.
The most popular way to see it is by ferry, with boats departing from central Stockholm multiple times a day. That said, you can also decide to boat, hike, sea kayak, bike, and swim in this wonderful setting! Whichever activity you pick, the experience of visiting the Stockholm archipelago will be unforgettable!
Skansen Museum
Skansen is an open-air museum that can be described as a "miniature Sweden." Here, you'll find farms and dwellings from all parts of the country that were disassembled and transported here. 
If you're curious about other parts of Sweden, but don't have the time to visit the whole country, this is the perfect place to visit! It's also a great family outing and is wonderfully located on Royal Djurgården, which offers spectacular views over Stockholm. 
Fotografiska Museum
If you like photography at all, you can't skip this. Fotografiska is one of the world's largest collections of contemporary photography, and it periodically hosts four large exhibitions and up to twenty smaller ones. 
On the top floor, you'll find a café with one of the best views over Stockholm. Oh, and the restaurant serves fresh, seasonal dishes and focuses on sustainable gastronomy. What's not to like about that?
Parks
If you spend a week or more in Stockholm, you'll surely realize how green this city actually is.
You'll find all kinds of parks, such as…
…Millesgården, with sculptures created by artists Carl and Olga Milles.
…Aspuddsparken, which offers entertainment for families and kids.
…Kungsträdgården, the city's oldest park featuring perfect lawns and tranquil cafés.
Djurgården is also a lovely park close to museums, galleries, and other attractions. 
I bet you could spend an entire week visiting Stockholm and still not see all of the parks, so go and find your favorite!
Vasa Museum
The Vasamuseet brings you the exciting history of the Vasa ship. This 69-meter-long warship sank on its maiden voyage in the middle of the Archipelago in 1628 and was salvaged in 1961—a whopping 333 years later.
In the museum, you can see the only preserved seventeenth-century ship in the world (around 95% of which is original!). It's been restored to its former glory and, through ten different exhibitions, you can get a glimpse of what life was like aboard the ship. 
Stadsbiblioteket
Stockholm's stadsbibliotek is the public library of Stockholm, designed by celebrated Swedish architect Gunnar Asplund. It's one of the city's most notable icons. 
While you probably won't stay long, it's definitely worth visiting, even if only to take refuge on a windy morning. Step in and discover the real masterpiece—an incredible collection of books all around the cylindrical walls.
Swedish Survival Phrases for Travelers
Of course, most people in Sweden will understand and speak some English, but knowing some basic phrases in Swedish will be helpful (and it will certainly please the locals!). 
Here are the phrases you might need:
Hejsan. / Hello. 
Tack! / Thank you!
Hejdå. / Goodbye. 
Förlåt. / Sorry. 
Mycket bra. / Very good. 
Jag förstår inte. / I don't understand. 
Var ligger…? / Where is…? 
Hur mycket kostar…? / How much is …? 
Skulle jag kunna få…? / My I please have…?
Hjälp! / Help!
Conclusion
So, have you decided to add some Swedish pages to your world travel book? If you're planning to visit Stockholm and experience its fairytale atmosphere for yourself, take a look at SwedishPod101.com. 
Here, with the help of highly qualified teachers, audio podcasts, word lists, and more, you'll be able to finally start adding another language to your repertoire! 
Start now, and you'll realize that picking up a language is easier than you think. Not to mention it will make your experience in the country even more unforgettable! 
Before you go: Which of these Stockholm travel destinations do you want to visit most, and why? Let us know in the comments!